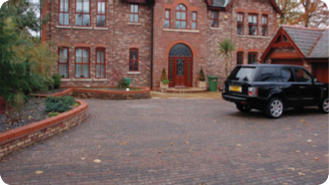 The overall appearance and value of your property can be dramatically improved with the addition of a new block paved driveway or paved patio area, and can be achieved for a relatively small investment. We have experience of paving in Manchester as well as other locations including Bolton, Cheadle, Alderley Edge, Hale, Altrincham, Wilmslow, Fallowfield and Didsbury.
There are a whole host of different products available to transform your home; for driveways you can choose from the more economical ranges, which will create an attractive yet practical surface, through to the more intricate designs which, whilst being more expensive, are truly stunning in appearance
For patios the choice is just as wide, with economical utility surfaces available through to some of the top of the range paving products. There's even the real thing - Natural Stone - with setts for driveways and pavings for patios.